Gerry Pond | Investing in Atlantic Entrepreneurship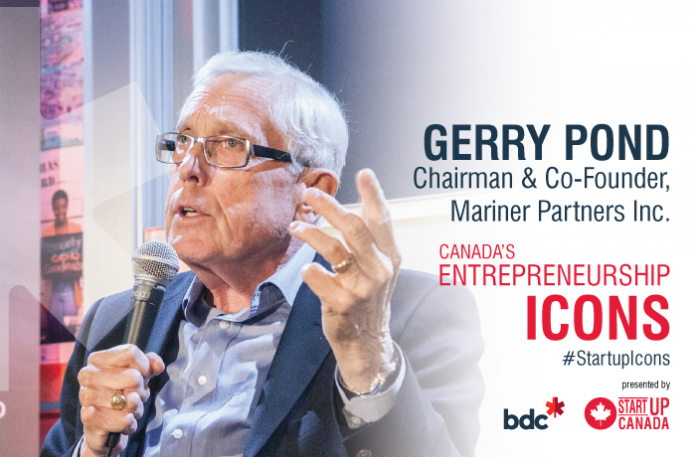 Gerry Pond | 2014 Recipient of the Startup Canada Lifetime Achievement Award
Gerry Pond is one of Atlantic Canada's greatest entrepreneurship champions – an entrepreneur, investor, philanthropist and civic leader. As the Chairman and Co-Founder of Mariner Partners Inc., he has co-founded a number of successful ICT start-ups, including iMagicTV, Q1 Labs, Brovada Technologies, Radian6, Shift Energy and Cirrus9.
He is also the Co-Founder of Propel ICT, the Co-Founder of the Pond-Deshpande Centre at the University of New Brunswick, and the Co-Founder of East Valley Ventures. He is a Director of Upside Foundation, NB Business Council and the National Angel Capital Organization.
Among many awards and achievements, including the Queen's Golden Jubilee Medal, the Order of New Brunswick, the Business Development Bank of Canada Entrepreneurship Champion, the 2017 EY Atlantic Lifetime Achievement Award, Gerry was recently appointed a Member of the Order of Canada.
At the 2014 Startup Canada Awards, Gerry's passion for supporting innovation and entrepreneurship was recognized with the prestigious Wolf Blass Lifetime Achievement Award.  In 2015, he was awarded the first-ever Business Development Bank of CanadaEntrepreneurship Champion –  a national award that recognizes the achievement of a Canadian entrepreneur and community leader who has created and grown one or many successful small or medium-sized businesses while significantly contributing to the prosperity of the Canadian entrepreneurship ecosystem.
SN: What inspired you to become an entrepreneur?
GP: A lifelong passion that was fulfilled at age 58.
SN: What is the biggest lesson you have learned to date?
GP: Determination trumps logic.
SN: What advice do you have to those starting up today?
GP: It is never too late.
SN: What is the one thing you think we need to do as a nation, today, to position Canada as a global innovation and entrepreneurial leader?
GP: To sharpen our international sales acumen.
SN: What is your vision for the next 150 years?
GP: I hope to see that Atlantic Canada returns to economic prominence.
SN: What is your message to the world?
GP: Social innovation is the answer to many of the world's issues.
SN: How have you benefited from being a recipient of the Startup Canada Awards?
GP: Recognition has led to other awards such as being named the first‑ever BDC Entrepreneurship Champion and receiving the EY Atlantic Lifetime Achievement Award.
Listen to Gerry's interview on the Startup Canada Podcast Show with Rivers Corbett.
From Startup Canada