This App Allows You To Collect Virtual Pets By Staying Off Of Your Phone
Oct 23, 2018 by Inda Intiar (Huddle)
FREDERICTON – If you've ever had a hard time staying off of your phone, Sapien's Lightdogs app might help. Cam Crain, the founder of technology startup Sapien, said the app is like "Pokémon Go meets with Focus Timer."
"Basically you earn points [called joules] by spending time unplugged from your smartphone and then use them to build a collection of these virtual super dogs," he said. "You set a time and while the timer's counting down, you're earning points. But if you leave the app before your timer's done, you lose all those points."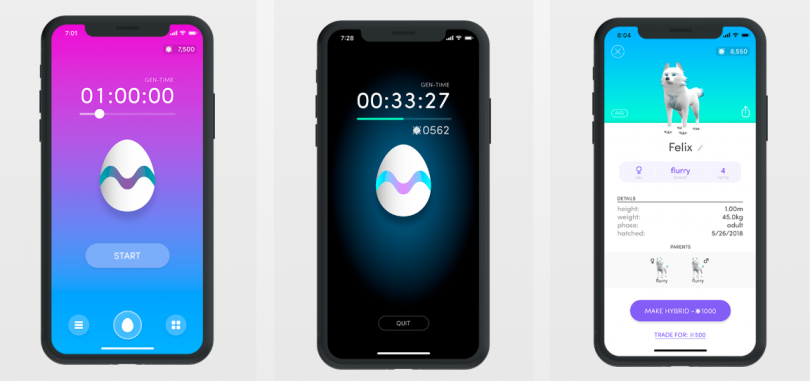 Lightdogs app. Image: Sapien's website.
The virtual dogs are called Lightdogs, which users can care for. They start as eggs that can then evolve into adult Lightdogs. If you're a 90s kid, this might be reminiscent of playing Tamagotchi, except users can also breed the Lightdogs.
Crain said he had been worried about the amount of time people spend on their smartphones for a few years. When he came across Cryptokitties, collectable cats created by Ethereum to get people involved in cryptocurrency, an idea was sparked.
"It reminded me of how powerful a motivator digital pets can be for people because I've been thinking about that with Pokémon. So I applied that to this problem," he said.
Various studies in the last year have found that people are spending at least two hours a day on their phone. Many of those hours are for social media use and gaming. A February survey of nearly 1,500 Canadians by Forum Research Poll found around 50 per cent of Canadians aged 18-34 spend more than two hours a day on their phones.
"I'm just worried because it's having all these effects on us personally, like mental and physical health and relationship-wise," Crain said. "But I'm more worried about the productivity loss – because a huge amount of time goes to these tech companies. And it's just a problem that hurts every other problem because people have less time to work on everything else. It's eating up more and more of our day."
So when he started working on Sapien seven months ago, his goal was to create ethical tech products. And helping people unplug from their phones is a "low-hanging fruit to make a big impact," Crain said.
Working with three remote contractors, including a 3D artist, Crain is preparing for the launch of Lightdogs' Beta version for iOS users this week. He plans to have a full version on the Apple app store by late November. After that, Crain will begin working on the Android version.
"I'm hoping to get as many people as possible to sign up for [the Beta]," he said
The app is free to download and doesn't have blocked features for premium users. However, it does allow in-app purchases. Crain said he's "really excited" about this monetization method, which allows users to buy boosters. With the boosters, only active for 12 hours after the purchase, users can multiply the points that they would normally earn from a session of unplugging instead of simply buying the points.
This aligns Sapien's mission with its income, Crain said.
"When you buy a booster, not only are points still linked to spending time off of your device, you actually have more incentive to spend time off of your device to capitalize on the boosters," he explained.
In the future, the former University of New Brunswick business student plans to develop the app for teams, so it can be used by companies. The 25-year-old also plans to add features that parents can buy if they want to use the app with their children.
As for Sapien as a whole, Crain's vision is to create a wide offering of consumer tech products that are "explicitly focused on improving human well-being."
With the backing of his parents and investors like Mariner's Gerry Pond, Crain was able to complete a pre-seed round for Sapien recently. He also takes advantage of the Business Development Program of Atlantic Canada Opportunity's Agency (ACOA), which helps fund 75 per cent of a project up to $50,000.
"I just see tech as the biggest opportunity to make an impact on people's lives. I think it's going to be the biggest way we can improve well-being moving into the future, so that was kind of a natural area that I moved into. I was basically just waiting to have an idea that would pass the due diligence process," he said.