Propel creates sales award in recognition of Gerry Pond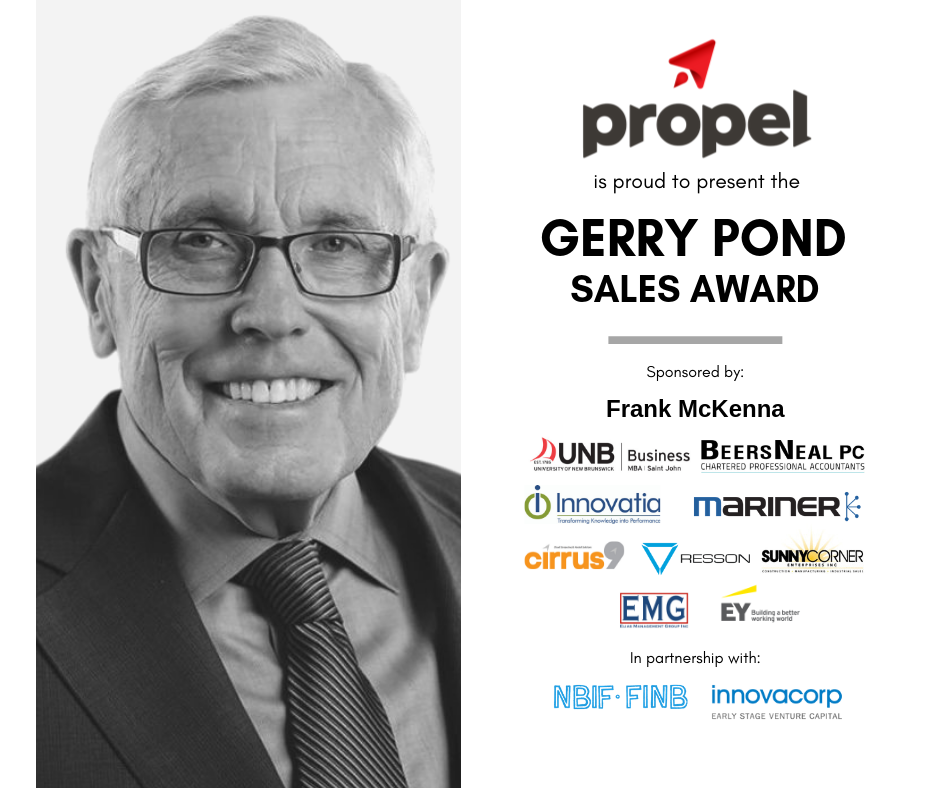 from Propel
Award includes $25K cash and $30K investment
Propel has created a sales award in recognition of Gerry Pond and his contribution to the Atlantic Canadian innovation and entrepreneurial ecosystem.
Pond co-founded Propel in 2003.  And, since then, he's played an integral role in the organization which helps launch tech startups in Atlantic Canada.
The Gerry Pond Sales Award will be awarded each year to an Incite Phase 2 company that excels in creating a repeatable and scalable sales process.  The Incite programming has an intense focus on customer acquisition and sales.
"Everyone who knows Gerry is well aware of his passion for three things: entrepreneurship, sales and Atlantic Canada," said Barry Bisson, CEO of Propel.  "We could not think of a better way to recognize him than with an award to further encourage entrepreneurship and excellence in sales execution in the Atlantic provinces.  The Propel board of directors and staff are thrilled to be able to honour Gerry's significant contribution to our region, and our organization, in such a fitting way."
Pond's experience as an entrepreneur and angel investor ignited his passion to advocate for the need to professionalize sales as a business discipline.  He firmly believes sales execution is an area where many Atlantic Canadian founders need improvement.
"Sales execution is often the difference between being a successful venture and one that does not realize its full potential," said Pond.  "My goal has always been to help entrepreneurs and startups prosper in our region.  It is with honour and humility that I accept this recognition as I believe it will further help to achieve and bring awareness to the need for sales professionalism in successful Atlantic Canadian ventures."
Concurrently, Pond was a strong proponent in the establishment of a sales stream in the UNB Saint John MBA program.
In addition to the accolade itself, the winner will be awarded with a $25,000 cash prize and the option of a combined investment from Innovacorp and NBIF totaling $30,000.
The creation of the award is sponsored and supported by many influential businesses and leaders who have a strong connection to Pond: Frank McKenna, the UNB Saint John MBA program, Beers Neal, Innovatia,  Mariner Partners, Cirrus9,Resson, Sunny Corner, Elias Management Group and EY.
The winner will be announced during a ceremony following Propel's Demo Day on the afternoon of May 30th in Saint John, NB.  Hon. Frank McKenna, Deputy Chair of TD Bank Group, a three-term Premier of New Brunswick and Canada's former ambassador to the United States, will be present to deliver remarks to honour Pond.
The winner will be chosen by a third-party selection committee based on identified criteria.  The criteria includes:
Monthly sales growth

Growth in number of customers

Demonstrated ability to push leads through the funnel in a structured way
About Gerry Pond
Gerry Pond has over 45 years of in-depth experience in the Information and Communications Technology (ICT) sector. As the CEO of NBTel and the President of its successor, Aliant Telecom, he was at the helm during a period of significant deregulation in the Canadian industry. Under his innovative leadership, NBTel emerged as an international ICT leader.
Born in Quebec and raised in New Brunswick, Pond's educational achievements include a Bachelor of Arts from the University of New Brunswick; Organizational Effectiveness Program, Harvard University; Executive Program, McGill University; and Senior Executive's Program, University of Western Ontario.
Pond is currently the Chairman and Co-Founder of Mariner Partners Inc., and has co-founded a number of successful ICT start-ups in Atlantic Canada, including iMagicTV, Q1 Labs, Brovada Technologies, Radian6, Shift Energy and Cirrus9.  He is also the Co-Founder of Propel, a startup accelerator, the Co-Founder of the Pond-Deshpande Centre at the University of New Brunswick, and the Co-Founder of East Valley Ventures, an accelerator for Atlantic Canadian startup companies with a mission of helping passionate entrepreneurs launch meaningful and enduring technology companies.  He is a Director of Upside Foundation, NB Business Council and the National Angel Capital Organization.
Pond has received many honours, both regionally and nationally, including:
2017:     appointed a Member of the Order of Canada
2015:     awarded the first-ever Business Development Bank of Canada Entrepreneurship Champion
2014:     Wolf Blass Lifetime Achievement Award, Canadian Startup Awards
2013:     Champion of Public Education by The Learning Partnership
2013:     Order of New Brunswick
2012:     Canadian Red Cross Humanitarian award for New Brunswick
2011:     Canadian Angel of the Year from Techvibes & KPMG
2007:     Pond was inducted into the New Brunswick Business Hall of Fame
2005:     Honorary Doctor of Letters from the University of New Brunswick
2005:     Honorary Doctor of Commerce from Saint Mary's University
2003:     Queen's Golden Jubilee Medal
2003:     Atlantic Business Magazine's Top 50 CEO Award in Atlantic Canada
2002:     NB Knowledge Industry Recognition and Achievement (KIRA) Awards Person of the Year
1997:     Canadian Information Productivity Association (CIPA) Innovator of the Year and Hall of Fame
About Propel
Propel aims to be a leader in fostering the growth of successful global technology companies headquartered in Atlantic Canada.
For more information, please visit: propelict.com.
Media contact:
Jane Harwood
jane@propelict.com
506-378-0177